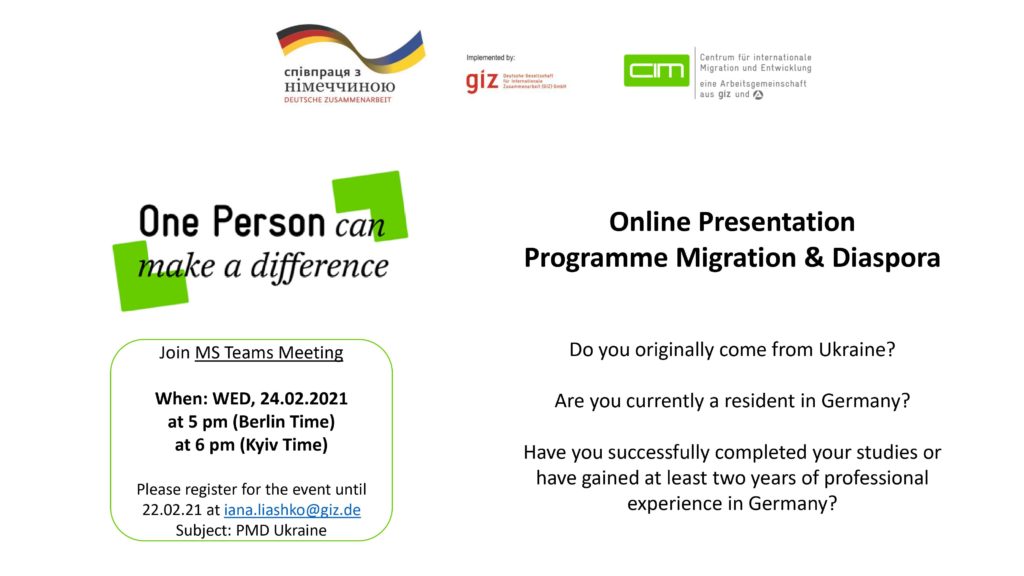 The Program helps to support qualified Ukrainians who have been educated and / or gained professional experience in Germany and intend to return to Ukraine and work in a field aimed at attaining the UN Sustainable Development Goals. It is aimed at the following target groups:
Citizens of Ukraine who study and work in Germany and intend to return to Ukraine
Ukrainian associations in Germany, which seek active cooperation with the civil sector in Ukraine and seek relevant funding
Skilled workers in Germany who would like to implement and share their professional experience during a short stay in Ukraine
Date: Wednesday 24 February 2021
Time: 17:00 – 18:00 (Berlin time)
Language of the event: Ukrainian
Please register by 22.02.2021 and send your last name, first name and institution or university (for students) to the e-mail address: iana.liashko (at) giz.de
Registered participants will receive an access link to the event.
Format of this online information event:
Program overview presentation (up to 20 minutes)
Testimonials of the graduates of the program "Migration & Diaspora" (up to 10 minutes)
Q&A session (up to 30 minutes)
The meeting was organized with the support of the Union of Ukrainian Students in Germany/ Bund Ukrainischer Studenten in Deutschland e.V. / СУСН.