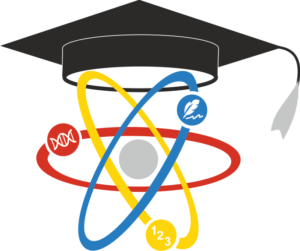 Thousands of students from Ukraine study and receive research training abroad. At the same time, the overall visibility of this talented next generation of scientists remains rather under-appreciated, both abroad and in Ukraine. Many PhD students also work on joint bi-lateral or international collaborative projects, or carry out research on topics related to Ukraine – e.g. its history, language, ecology, etc. Our PhD Thesis Presentation Contest aims to promote these young scientists and in doing so contribute to increasing the visibility of Ukrainian PhD students abroad and raising the profile of the international academic collaboration with Ukraine.
Past events: check the PhD Contest archive page
Application closing date for the 2021 Contest was Monday, 10 May 2021: see the Finalists 2021. The Winners 2021: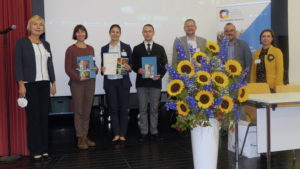 The winners and the UKRAINET PhD Contest Jury members (left to right): Prof. Olga Garaschuk, Kseniia Kravchenko – the 1st place,  Nataliya Yadzhak – the 2nd place, Pavlo Burdiak – the 3rd place, Prof. Matthias Epple, Prof. Theocharis Grigoriadis, Dr. Olesia Lazarenko © CEDIS/ FU Berlin
Copyright: CEDIS/ FU Berlin
Eligibility: We invite applications from PhD/MD students carrying out their research in any subject, from one or more following groups:
Ukrainian PhD students carrying out their research outside of Ukraine (incl. exchange PhD students);
PhD students, regardless of nationality, who are involved in a collaborative (e.g. German-Ukrainian or multi-lateral, including Ukraine) research project;
PhD students, regardless of nationality, whose topic of research relates to Ukraine.
Please note: only those PhD students whose PhD defence/viva is planned after the PhD Contest Final date can be considered (i.e. candidates who have already defended or are expected to defend their PhD thesis prior to the PhD Contest Final are not eligible to apply). If you have questions or any doubts about your eligibility, please contact us at info (at) ukrainet.eu.
Successful candidates are invited to present their research as a 5-minute talk at the Final event on stage, and get a chance to win one of the three prizes (1st place: EUR 300, 2nd place: EUR 200, 3rd place: EUR 100) as well as add an extra credential to their CVs. The travel (up to 200 EUR) and stay (up to 2 nights) is funded by the Society. For more information please read carefully the FAQs.
Contact: info (at) ukrainet (dot) eu
Past events: check the PhD Contest archive page
This PhD Contest is organised by the German-Ukrainian Academic Society (DUAG)/ The UKRAINE Network. It has been sponsored and supported by:
2021: Nomad Bioscience GmbH and the Embassy of Ukraine in Germany
2019: Nomad Bioscience GmbH and the Embassy of Ukraine in Germany
2018: Nomad Bioscience GmbH and the Embassy of Ukraine in Germany
2017: Nomad Bioscience GmbH, Global Business Management (Wirtschaftswissenschaftliche Fakultät, Universität Augsburg) and the Embassy of Ukraine in Germany
2016: Nomad Bioscience GmbH and the Embassy of Ukraine in Germany