We cordially invite you to the next event, in an online format, within our "Science first hand" lecture series:
Announcement (download in Ukrainian)
Video-lecture. The video image shows: Dr. Oleh Turiy, speaker; Dr. Olesia Lazarenko, DUAG Member and coordinator of the Berlin-Brandenburg regional chapter/ Research Fellow, Viadrina European University, Frankfurt-on-Oder; Ms. Olha Mishkina, Cultural Attaché of the Embassy of Ukraine in Germany; Ms. Bozhena Kozakevych, Research Fellow, Viadrina European University, Frankfurt an der Oder. Ms. Mishkina addressed the audience with a welcoming speech.
List of relevant literature (download)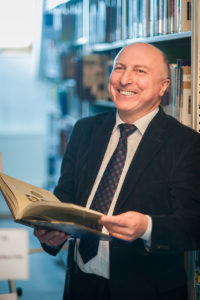 Speaker: Oleh Turiy, Ph.D., Vice Rector for External Affairs, Associate Professor of Church History, Chair of Church History Department, Ukrainian Catholic University, Lviv, Ukraine
Date: Thursday, 30 July 2020
Time: 18:00 – 19:30 (Berlin, CEST)
Language: Ukrainian, with discussion in Ukrainian and German
This event will be carried out using the BigBlueButton (BBB) web-platform. Please register by 28 July per e-mail: berlin (at) ukrainet.eu. Specific access information will be sent to all those who have registered shortly before the event.
This event is organized by the regional Berlin-Brandenburg chapter of the German-Ukrainian Academic Society in cooperation with the Embassy of Ukraine of the Federal Republic of Germany and is dedicated to the 155th anniversary of the birth of Metropolitan Andrey Sheptytsky.