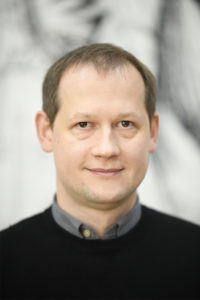 Bio-nanotechnology researcher Anton Kuzyk, now at Aalto University, Finland, was awarded an ERC Consolidator Grant for his project on "Electrically driven DNA- origami-based machines".
Anton Kuzyk was born in Lviv. He graduated with BSc Applied Physics from the Taras Shevchenko National University of Kyiv in 2003 and obtained his MSc in Applied Physics from the University of Jyväskylä, Finland in 2005. He gained his PhD in Physics from the same university in 2009 and carried out his postdoctoral research at Helsinki University of Technology, Technical University Munich, Aalto University and Max Planck Institute for Intelligent Systems. In 2016 he returned to Aalto University as Assistant Professor and was promoted to Associate Professor in 2020, where he also directs the Master's program in Life Science Technologies.
Kuzyk is the third person from his graduation year's class to receive an ERC grant, with the DUAG founding member Denys Makarov (Head of the Department "Intelligent Materials and Systems", HZDR) winning his ERC Starting Grant SMaRT: "Shapeable Magnetic Sensorics" in 2012 and Andrii Chumak (NanoMagnonics, Faculty pf Physics, University of Vienna) winning his ERC Starting Grant MAGNONCIRCUITS: "Nano-Scale Magnonic Circuits for  Novel Computing Systems" in 2016.
In a recent article "Ukrainian scientists say they need bullets, not grants" (Science I Business, 18 March 2022) Anton Kuzyk is quoted as saying that the research world's response has been great but notes many of the stays offered are short-term. While the desire is to end the war as quickly as possible and for the scientists to return to Ukraine, some researchers, especially those that are older, are not as flexible and will need long-term support to continue if they choose to continue their careers in exile. After the war, he hopes that Ukraine will boost investment in research allowing its scientists to continue their work in the country. "Ukraine is a big country. We should recognise there is significant intellectual potential in it," said Kuzyk.
See our other ERC-related news here.