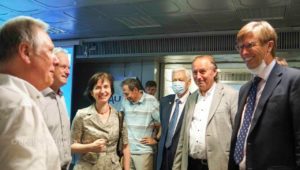 On July 19, 2021 Kyiv Academic University and twelve institutes of the National Academy of Sciences signed the Memorandum to establish the Association of Academic Cooperation "Academ.City" in Kyiv, in the presence of the acting President of the National Academy of Sciences of Ukraine, Academician Serhiy Pyrozhkov.
The establishment of the Association is a significant step to create a high technology science park "Academ.City" in Kyiv. This aspiring endeavor brings together leading actors of the innovation ecosystem of Ukraine from both basic research and business to foster their mutually beneficial collaboration and exploit synergies. The main goal of the future innovation park "Academ.City" is to advance scientific and technological developments to higher levels of readiness and stimulate their further commercialization. This will enhance regional development by creating new knowledge-based jobs and contribute to the development of the innovative sector of the economy of Ukraine. The concept of the "Academ.City" has been inspired by the Berlin's Adlershof, one of the most modern and successful science and technology parks in Germany.
Among the participants of the signing ceremony were directors of institutes of the National Academy of Sciences of Ukraine, Mr. Bertram von Moltke  (Chargé d'affaires a.i. Embassy of the Federal Republic of Germany to Ukraine), Professor Dr. Elmar Kulke (Dean of the Faculty of Mathematics & Natural Sciences, Humboldt Universität zu Berlin), Mr. Helge Neumann (WISTA MG, Adlershof, Berlin), as well as Mr Oleksiy Kuleba, First Deputy Head of the Kyiv City State Administration for Self-Government Powers, and Mr. Anatoliy Bagan, Deputy Director of the Department of Industry and Entrepreneurship Development at the Kyiv City State Administration.
The city authorities promised to support the implementation of this innovative project. "I'm sure the city will meet this ambitious challenge. After all, Kyiv has long been a city of students and science. There are over 400 scientific organization in Kyiv and more than a hundred of higher education institutions, "- said Mr. Kuleba. Moreover, a delegation from the German Ministry of Education and Research (BMBF) also expressed its support for the project during their welcome online speech: the conceptual phase of this project has already been supported through the BMBF-funded joint project "Scientific support for the establishment of a technology park (Academ.City) in cooperation with the Kyiv Academic University (KAU) of the National Academy of Sciences of Ukraine (NASU)"; sub-project: Overall concept of the technology park and sub-project : Scientific potential and regional analysis (01.09.2019 – 31.12.2021).
More: New Time, in Ukrainian