The schools are breaking the ground not only by bringing German and Ukrainian scientists but also Nanotechnology and Artificial Intelligence under the moto "Science of today is a medicine for tomorrow". The Schools will feature an intense scientific program as well as a captivating program with the representation of German life and culture, study and science. Moreover, valuable soft skills courses will be offered to support young participants to develop a successful career.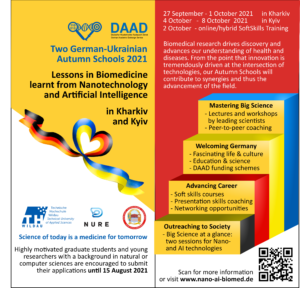 These two Autumn Schools will be held in two beautiful Ukrainian cities:
in Kharkiv: 27 September – 1 October, 2021, and
in Kyiv: 4 – 8 October, 2021
Highly motivated graduate students and young researchers with a background in natural or computer sciences are invited to submit their applications by August 15th, 2021. The participation for students and young scientists is free of charge.
The events' website will go live shortly.
Originally planned as classical "Summer Schools" the schedule had to be changed and the schools moved to autumn due to the ongoing COVID-19 pandemic. Although these plans might still need to be further adjusted and particular precautions may need to be taken the organizers have a strong expectation to bring the multicomponent program to life and to reanimate international scientific in-person exchange.
These German-Ukrainian DAAD Autumn Schools are organized by the German team led by the Prof. Dr. Marcus Frohme from the Technical University of Applied Sciences Wildau. The first week is planned in Kharkiv in cooperation with the local organizing committee led by Prof. Dr. Igor Grebennik at the Kharkiv National University of Radio Electronics and the second week in Kyiv in cooperation with the local organizing committee led by Prof. Dr. Yuriy Prylutskyy at the Taras Shevchenko National University of Kyiv. Both school are supported by the German Academic Exchange Service (DAAD).
The inspiration for these events came from the DUAG member Dr. Anna Grebinyk, Technical University of Applied Sciences Wildau, who participated in the first German-Ukrainian summer school "Perspectives for young scientists in life sciences: Mastering global challenges of the modern society" (25-31 July 2016, Ivano-Frankivsk), organized by the DUAG members and supported by the DAAD. Now she is an organizer herself and thus contributes to fostering of German-Ukrainian academic cooperation through the knowledge transfer and support of early-career researchers.