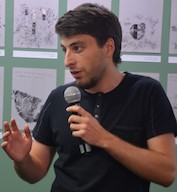 We cordially invite you to the next lecture within our "Science first hand" lecture series:
This lecture will be given in Ukrainian. Questions could also be asked and answered in English.
Date: Thursday, 24 October 2019
Time: 18:00 – 19:30
Venue: Embassy of Ukraine in Federal Republic of Germany, Albrechtstraße 26, 10117 Berlin
Register by 21 October: berlin (at) ukrainet.eu, providing your name, occupation and employer/ place of study, city, as required by security regulations of the embassy. Please have a valid photo-identity document to enter the venue.
Announcement (in Ukrainian)/ (In English)
Speaker: Denys Shatalov – Ph.D., Head of Research Department of the "Tkuma" Ukrainian Institute for Holocaust Studies (Dnipro), Visiting Fellow of the 'Prisma Ukraïna–Research Network Eastern Europe' at the Forum Transregionale Studien (Berlin). In 2012 Denys graduated with honors from the Faculty of History of Oles Honchar Dnipropetrovsk National University; in 2016 he defended his dissertation, published as the monograph next year: "The Notions about Cossacks. Ukrainian Cossacks in social opinion of the second half of the XVIII – the first half of the XIX c." Currently Denys as a Visiting Fellow of Prisma Ukraina is working on his project "Turning Galicia to the Cossackness": Accepting the Cossacks Idea in Galicia and Forming of the Modern Ukrainian Nation in the First Half of XIX c."
Talk summary: The "Cossack myth", a notions of the key role of the Cossackdom in the history of Ukraine and the Cossacks as a symbol of all the virtues of the Ukrainian people, is one of the foundations of the modern Ukrainian identity. Such perception of the Cossacks is widespread now also in historically non-Cossack regions, including Galicia. However, unlike in the Dnipro (Dnieper) Ukraine, there wasn't any real Cossack tradition. Nevertheless, since the 1860's in this region a true "cult of the Cossacks" emerged. The basis for the reception of this "cult" was already being prepared by the first generation of the Ukrainian national awakeners of Galicia – Markian Shashkevich, Ivan Vagylevych and Yakiv Golovatsky in the 1830s. The Cossacks were some of the main characters in their works and folklore texts they published. But how did the activists of the "Ruthenian Trinity" imagined the Cossacks and the history of the Cossack era? From where did they get the "impulse of the cossackophilism"? – Was there in this non-Cossack region any genuine memory of the Cossacks? And what was the decisive factor, – Dnipro (Dnieper) Ukraine's influence or the local tradition?