The Days of Ukraine in Baden-Württemberg took place in Tübingen on 19-20 September 2019 under the motto "Advancing Science and Education through International Cooperation".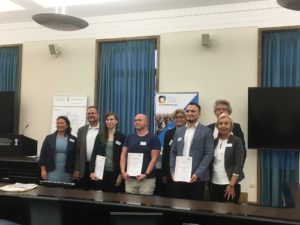 Over 70 researchers from all over Germany and members of interested general public gathered to learn more about the best praxis examples of German-Ukrainian collaboration in higher education, research and innovation, discuss opportunities and challenges of developing lasting partnerships, as well as to network and exchange new ideas.
The highlight of the event was the Final of the annual PhD Thesis Presentation Contest, organized by the German-Ukrainian Academic Society for the fourth time (see press-release). With this contest the Society promotes aspiring PhD candidates and foster academic cooperation with Ukraine. The contestants are either Ukrainians carrying out their PhD research abroad, or are involved in a bi- or multi-lateral collaborative research projects with Ukrainian scientists, or whose research topic is related to Ukraine. This year 16 candidates applied from Canada, Germany, the UK and Ukraine. Out of the six peer-review selected finalists five candidates took part in the Final presentation round, with a challenge to present their PhD research in just five minutes. The jury headed by Prof. Olga Garaschuk included Dr. Christian Schaich (ZOiS, Berlin), Dr. Gisela Zimmermann (DAAD IC Kyiv), Prof. Matthias Epple (University of Duisburg-Essen/ DUAG Vice-president) and Dr. Tetyana Yevsa (MHH/ DUAG member). The PhD Contest winners 2019 are:
The first place: Sofiia Reshetniak (UMG, The Georg August University of Göttingen) for her talk "Dynamic organization of the synaptic bouton";
The second place: Oleh Rymarenko (Max Planck Institute for Biophysical Chemistry, Göttingen) for his talk "XPO1 – a bouncer of a cell nucleus";
The third place: Yevgenii Grushevskyi (The Julius Maximilian University of Würzburg) for his talk "Activation Kinetics of GPCRs".
In addition to book prizes the winners received the monetary award of €300 for the first, €200 for the second and €100 for the third place, which has been endowed by Nomad Bioscience GmbH.
The Days of Ukraine in Baden Württemberg were hosted by Prof. Olga Garaschuk, Eberhardt Karls University of Tübingen and president of the German-Ukrainian Academic Society (Deutsch-Ukrainische Akademische Gesellschaft e.V./ DUAG). This event was supported by the DUAG, Baden-Württemberg International, the DAAD grant "Go East: Osteuropatagen an deutschen Hochschulen Ukrainischer" and the Ukrainischer Verein Tübingen e.V.