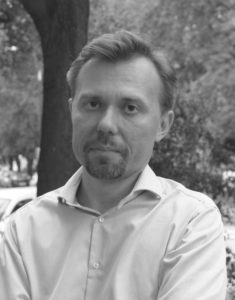 Topic: "

Attitudes to Ukraine in the German Society: Historical Stereotypes and Participant Observations"
Announcement-download (in Ukrainian)

Speaker: Professor of Entangled History of Ukraine at the European University Viadrina (Frankfurt-Oder), Director of the PRISMA UKRAЇNA Research Network Eastern Europe at the Forum Transregionale Studien Berlin.
Date: 24 May, Thursday
Time: 18:00 – 19:30
Venue: Embassy of Ukraine in Germany, Albrechtstraße 26, 10117 Berlin
Registration is mandatory: please send an e-mail by 22nd of May to: berlin (at) ukrainet.eu (in accordance with the embassy's security regulations, please provide details on your name, occupation and place of residence).
This lecture will be held in Ukrainian.
The Speaker
Dr. Andrii Portnov is the author of six books and more than two hundred scholarly publications in Ukrainian, Russian, Polish, English, German, French, Belarusian, Czech, Bulgarian, Lithuanian, and Japanese.  He lectured at the Free University Berlin, Humboldt University in Berlin, Universities of Cambridge, Helsinki and Basel, Free University of Brussels, SciencesPo Paris and SciencesPo Lyon.  Dr Portnov conducted research at the Trier University, Ivan Krypiakevych Institute for Ukrainian Studies in Lviv, National Institute for Strategic Studies in Kyiv, Centre for the Holocaust and Genocide Studies in Amsterdam, Centre for the Studies of Russia, Caucasus and Central Europe (CERCEC) in Paris, Institute for Advanced Study (WIKO) in Berlin, Institute for Human Sciences (IWM) in Vienna, the University of Geneva, the Institute of History of the Academy of Sciences of Lithuania.
The Lecture
What attitudes to Ukraine could be traced in the German society and how they were influenced by the recent events (Maidan, annexation of Crimea, war in Donbas)? How the images and perceptions of Ukraine in German media, official rhetoric of the government and public opinion interact and define each other? What historical experiences and stereotypes influence the image of Ukraine in German public opinion, and how it corresponds to the Russlands-Komplex (the term by Gerd Koennen)? How Ukrainian Studies in Germany look like and what are the perspectives for their development?