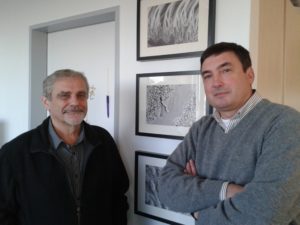 Professor Alexander Filippov (Donetsk, National Academy of Sciences of Ukraine) is well known internationally for his outstanding research in the fields of theoretical and applied physics. He has made important contributions to these fields ranging from the atomic scale friction and planetary systems dynamics to the questions of biological evolution and ecology, by combining a large variety of mathematical methods with intuitive physical insight. During his stay in Germany, he intends to develop simulations of adhesion and friction behavior of various biological systems: from chameleons, clingfish to the snake skin. His models will be enhanced due to implementations of real physical parameters, obtained from experimental studies on biological systems.
Professor Filippov is hosted by Professor Stanislav Gorb at the Kiel University and by Professor Popov at the Technical University Berlin.
Alexander Filippov & Stanislav Gorb. Photo: private.