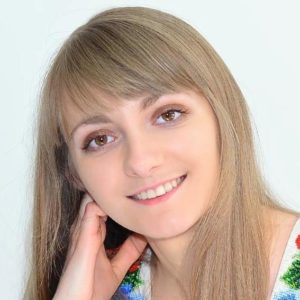 Veronika Skip is a PhD student at the Faculty of Culture and Arts of the Ludwig Maximilian University in Munich. Her research is focussed on a comparative study on post-war Ukrainian diasporan art in Germany and North America, based on examples of the works of three artists – Sviatoslav Hordynsky (1906-1993), Edward Kozak (EKO) (1902-1992) and Petro Mehyk (1899-1992) – at selected stages of their emigration.
The paths of these three artists intersected in Lviv, Munich, Philadelphia, Detroit, and New York. They worked in the cultural and artistic centers of Europe, the United States and Canada, and were among the most prominent and leading artists of the Ukrainian diaspora. Through their exhibition and publishing activities, Hordynsky, Kozak, and Mehyk tried to develop the concept of a "new Ukrainian art" and to represent it in the Western world at a high level.
Veronika successfully completed her Master´s degree in Art History at the Ludwig Maximilian University of Munich She graduated with Bachelor´s and Master´s degrees in Art and Cultural Studies from the Ivan Franko National University of Lviv. As a scholarship holder of the German Academic Exchange Service (DAAD), Veronika conducted research in the United States in the archival and art collections of the Shevchenko Scientific Society, the Ukrainian Museum in New York, the Ukrainian Museum and Library of Stamford, the Ukrainian National Museum of Chicago, the Ukrainian American Archives of Detroit, and the Library of the Ukrainian Academy of Arts and Sciences in the U.S.A., as well as a number of private collections.
See Veronika's testimonial published by the Shevchenko Scientific Society.