Testimonial: Internship at IRIA/Akkon University of Applied Sciences in Berlin, supported by the Internship Programme of German Business for Ukraine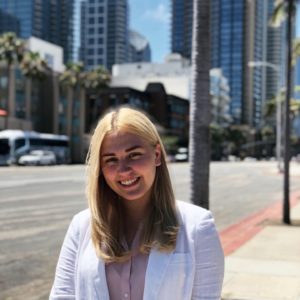 Halyna Moroz, Taras Shevchenko National University of Kyiv
August 1, 2021
One of the perks of living in a globalized world is, without a doubt, the opportunity of gaining international experience all around the world which allows to expand your professional as well as personal horizons.
Ukraine is a relatively young independent country and I believe it is of extreme importance that the people, who are going to work for its prosperity, have the most relevant education in their chosen field. And the Internship Program of German Business for Ukraine offers a perfect opportunity for them as it gives an excellent chance to verify the knowledge they acquired at universities and elsewhere by applying it in practice. As it has been said: "Practice makes perfect".
The Internship Programme of German Business for Ukraine offers students and young professionals from Ukraine a three to five months internship at leading German companies and organizations. The interns gain an insight into the corporate culture in Germany and get acquainted with modern management and labour organisation.
Following their stay in Germany, the interns return to Ukraine and can apply their newly acquired knowledge and skills there. The acquired experience and established contacts shall boost the economic development of Ukraine and promote bilateral relations with Germany.
The Internship Programme of German Business for Ukraine is financed by the Federal Ministry on Economic Cooperation and Development (BMZ) and contributions from companies. It is implemented by the Ukrainian Chamber of Commerce and Industry (Kyiv) and German Federal Enterprise for International Cooperation (GIZ GmbH).
I was lucky enough to, upon a rigorous application and selection process, let's say, catch the last train and become a participant of the last, 7th generation of this program. I carried out my 3-month internship at Akkon University of Applied Sciences in Berlin, which is a young private university specializing in the humanities, global health, civil protection, education in nursing, pedagogy and social sciences. In particular, I joined the team of the Institute for Research in International Assistance (IRIA) within Akkon, which focuses on questions of humanitarian aid, development cooperation and global health, and thus provides scientific basis for respective political and social debates. And let me say that in times like this, in times of a global pandemic, it feels quite surreal to actually be here, in Berlin, and have the opportunity to undertake this internship.
Regarding my experience so far, I have only positive impressions. Again, in times like this, you'd expect the process to be a bit challenging, but everything went as smoothly as possible, starting from receiving a warm (even though digital) welcome to getting used to work in home-office.
I started my internship at the beginning of May and during the last three months I got involved in various activities of Akkon University and IRIA, among which I'd like to highlight the following.
Annually, the Akkon University produces a series of publications on a topical problem of global research. This year's publication is devoted to Public Health in Ukraine within the project funded by the Federal Ministry of Health "Strengthening the health system in Ukraine by promoting health sciences and effective bilateral collaboration". I've supported this project and thus gained an opportunity to work with IRIA's partners from Ukraine, namely from Ternopil, Lviv, Kyiv, Odesa, Lutsk, and Sumy. This work allowed me to improve my communication skills to a great extent, as well as offered an insight into how international cooperation works.
Furthermore, I participated in several networking conferences, such as "Dialogue for the Future 2021" and Civil Match 2.0. The former was organized by Civil Society Cooperation and supported by German Foreign Office, and the latter was organized by the famous Goethe Institut. Events like this are truly mind-blowing as they are attended by dozens (sometimes hundreds) of civil society organizations that are working in diverse fields and are doing an incredible job in making the world a better place.
Another thing I found fascinating was contributing to internationalization process of Akkon University. DAAD project "Bologna Hub Peer Support" aims at fostering the implementation of the Bologna key commitments and the application of the Bologna tools at higher education institutions throughout the European Higher Education Area. And Akkon University, being a young institution, prioritizes its internationalization.
Furthermore, I also got to work with a very international team of IRIA, including persons from different parts of the world, for instance from Yemen, Ghana, Burkina Faso and more.
And last but least is what I probably appreciate the most. The fact that I had a chance to do my own research on the topic of Public Health as a Component of National Security of Ukraine and present my findings to students from Ternopil National Medical University, Kyiv-Mohyla Academy and Akkon University, which was a true highlight of my internship!
To crown it all, I would like to say that the opportunity to plunge in German society and work for a German university is surely going to be very beneficial for my personal and professional development, and I am convinced that only greater things await for me and other young professionals who are not afraid of leaving their comfort zone and learning something new.