We cordially invite you to the next lecture within our "Science first hand" lecture series: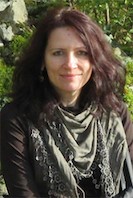 Speaker: Prof. Dr. Ievgeniia Voloshchuk, Europa-Universität Viadrina Frankfurt (Oder)
Date: Thursday, 5 December 2019
Time: 18:00 – 19:30
Venue: Embassy of Ukraine in Federal Republic of Germany, Albrechtstraße 26, 10117 Berlin
Register by 2 December: berlin (at) ukrainet.eu, providing your name, occupation and employer/ place of study, city, as required by security regulations of the embassy. Please have a valid photo-identity document to enter the venue.
Announcement (in German/ in Ukrainian)
This lecture will be given in German. Questions could also be asked and answered in Ukrainian.
About the speaker: Prof. Dr. Ievgeniia Voloshchuk is literary and cultural scientist. She wrote her doctorate on Franz Kafka (1994) and habilitated on intellectual and aesthetic tendencies of German-language modernist literature in poetry by Rainer Maria Rilke, prose by Thomas Mann and dramas by Max Frisch (2010). From 2003 to 2014 she worked as a research assistant and from 2009 to 2014 as director of the Center for German Studies at the Ševčenko-Institute for Literature of the National Academy of Sciences of Ukraine (Kyiv).  Since 2014 she has been working on her research projects at the European University Viadrina Frankfurt (Oder). Her research focuses on German-Jewish literature, relations between German-language and East Slavic literature in the 20th and 21st centuries, intercultural German studies, Eastern European discourse of memory, border studies, mental maps research and imagology. In her current research project, which was sponsored by the Fritz Thyssen Foundation, she examines the reception of Ukraine in German-language literature.
Lecture's summary: With the declaration of Ukrainian independence in 1991, a necessity arose in the German-speaking cultural area to "rediscover" or "rethink" Ukraine (Karl Schlögel). Contemporary German writers who have turned their attention to the Ukrainian theme in their works have also made a significant contribution to the cultural mapping of the country. Despite all their diversity, their Ukrainian images reveal certain patterns of representation that were taken over from an earlier German Ukrainian reception. Using exemplary texts as examples, the lecture will examine topographical models, imagological stereotypes, and traditional motifs that shape Ukraine images in contemporary German literature. Special attention will be paid to the interaction between mental cards and phantom boundaries, which co-determines a "palimpsest-like" character of the Ukrainian space in German-speaking cultural reception.