By Dr Olesia Lazarenko, Viadrina (Frankfurt/Oder)
On July 11, 2018 The Language Centre of the European University Viadrina (Frankfurt/Oder) hosted the closing evening of the Year of Ukrainian Language in Germany.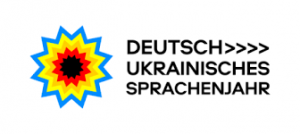 2017/2018 was designated the Year of Ukrainian Language in Germany and of the German Language in Ukraine as
a joint initiative of foreign ministers of both countries at the time, Pavlo Klimkin and Frank-Walter Steinmeier
.
Both Viadrina students, who learn Ukrainian at the University`s Language Centre, and students from Ukraine, who study economics, political and cultural studies, participated in the closing event. Among the most important accomplishments of the Year of Ukrainian Language in Germany the following activities were presented: various academic seminars and lectures, the series of Ukrainian language lessons, the introduction of the audioguides in Ukrainian language in the tourist buses in Berlin, the opening of the Ukrainian language radio in Berlin, the city tour 'Ukrainian Berlin', etc. Furthermore, the organizers exhibited guide books and supplementary materials to learn Ukrainian as a foreign language. The event ended up with a screening of a film "Diakuiu" [Thank you] produced with the aim of popularizing Ukraine in the world (produced by the Best Friends Film Group).