Our Berlin-Brandenburg regional group cordially invites you to the next lecture within the framework of the "Science first hand" series:
Topic: In the footsteps of the stalker: the zone as a place of collective memory (S.T.A.L.K.E.R. Shadow of Chernobyl)
Speaker: Dr. phil. Alexander Kratochvil, Humboldt University of Berlin, Slavonic Studies
Date: Thursday, 22 March 2018
Time: 18:00 – 19:30
Venue: Embassy of Ukraine in Germany, Albrechtstraße 26, 10117 Berlin
This lecture will be held in German. Registration is required: e-mail to berlin (at) ukrainet (dot) eu
(DE, for English – see below) Wir bieten Ihnen ein Treffen mit Herrn Dr. phil. Alexander Kratochvil, Slawist, Literaturwissenschaftler, Übersetzer. Von 1987 bis 1993 studierte er Slawistik, Ethnologie, Osteuropageschichte und Germanistik an den Universitäten München, Freiburg, Brno (Tschechien) und L'viv (Lemberg, Ukraine). Er promovierte mit dem Thema "Mykola Chvyl'ovyj. Eine Studie zu Leben und Werk" (1999). In den Jahren 2004-2009 organisierte und leitete er das Greifswalder Sommerschule Ukrainicum, ab 2005 im Alfried Krupp Wissenschaftskolleg Greifswald.
Vortragszusammenfassung: Die Inszenierung der Tschernobyl-Zone in einem äußerst erfolgreichen und international sehr populären ukrainischen Computerspiel bietet die Möglichkeit dessen kreativen Umgang mit einer historisch sensiblen Erinnerung zu untersuchen. Dabei wird nach dem kulturellem Potenzial populärer Formate, resp. des digitalen Mediums Computerspiel im Zusammenhang mit dem Modell des kulturellen und kommunikativen Gedächtnisses (Jan und Aleida Assmann) gefragt. Die Untersuchung des Computerspiels Shadow of Chernobyl bringt im Sinne einer kulturwissenschaftlichen Reflexion des traumatisierenden Ereignisses "Tschernobyl" ukrainische und übergreifende transnationale Zusammenhänge einer kulturellen Kommunikation über dieses Ereignis in den Blick.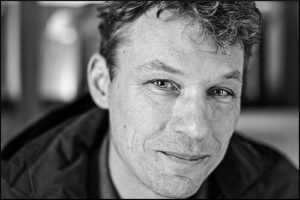 Alexander Kratochvil ist Autor zahlreicher Artikel und Monographien zur Literaturkritik, Herausgeber der Reihe Greifswalder Ukrainistische Hefte (2004–2007). Sein Buch "Aufbruch und Rückkehr. Ukrainische und tschechische Prosa im Zeichen der Postmoderne" erschien 2013 in Berlin (Kadmos). Seine Forschungsschwerpunkte sind Slavische Literaturtheorien in soziokulturellen Kontexten; Gedächtnis und Erinnerung in den mittel- und ostmitteleuropäischen Literaturen, Filmen und Computerspielen/ digitalen Medien, Trauma-Narrative in Literatur, Film; Transregionalismus; Kulturökologie/ Ecocriticism; Kanonbildung und Literaturgeschichtsschreibung in mittel- und osteuropäischen Literaturen. Darüber hinaus erfüllt Alexander Kratochvil Lehraufträge zur ukrainischen Literatur an der Humboldt Universität zu Berlin und übersetzt ukrainische und tschechische Literatur ins Deutsche – Jurij Andruchowytsch, Serhij Zhadan, Natalka Snjadanko, Jurij Wynytschuk, Oleksandr Irwanez. Unter anderem erschien im Droschl-Verlag seine Übersetzung von Oksana Sabuschkos Roman "Museum der vergessenen Geheimnisse" (2010) und "Planet Wermut. Essays" (2012) und im Haymon Verlag Oleksandr Irwanezs Roman "Praline vom roten Stern" (2017, ukr. "Рівне/Ровно (Стіна)").
Literarische Übersetzungen (Auswahl aus der ukrainischen Prosa):
Jurij Andruchowytsch. Get lost (Essay). In: Sprache im technischen Zeitalter 2004. Nr. 170. S. 160-170
Serhij Zhadan. Am Rand. In: Versperrte Tore. Ukrainische Autoren und Wien. Hrsg. Simonek, S. Passau (Verlag Karl Stutz) 2006. S. 115-118
Natal'ka Snjadanko. Deutschlandreise. Der lange Weg von Schalke nach Glücksstadt. Und die Erkenntnis: eigentlich ist überall Lemberg. In: du. 2006. Nr. 6. S. 48-56. Gekürzt im Internet unter: eurozine.com/pdf/2006-06-19-sniadanko-de.pdf
Oksana Sabuschko. Welcome to Ukraine. In: Ukraine und Weißrussland. Aus Politik und Zeitgeschichte (Bundeszentrale für politische Bildung). 8-9/ 2007. S. 3-8
Oksana Sabuschko. Welche Freiheit. In: Plädoyers für eine offene Gesellschaft. Essays. Matthes & Seitz, Berlin 2007. S. 211-231
Oksana Sabuschko. Rückkehr nach Graz. In: top 22. The only way is up ….. Beiträge der Ateliergäste des Unabhängigen Literaturhauses NÖ (Teil 3). Hrsg. Kühn, W. Wien (Edition Aramo) 2007. S. 254-263.
Katharina Chinkulova. Tod in New York. (Erzählung) In: http://www.e-radar.pl/, 2010
Oksana Sabuschko. Das Museum der vergessenen Geheimnisse. Roman. Droschl Verlag, 2010
Oksana Sabuschko. Planet Wermut. Essays. Droschl Verlag, 2012
Jurij Wynnytschuk. Im Schatten der Mohnblüte. Haymon Verlag, 2014
Oleksandr Irwanez. Pralinen vom roten Stern. Haymon Verlag, 2017 Oksana Sabuschko. Der lange Abschied von der Angst. Droschl Verlag, erscheint 2018
(EN) Dr. phil. Alexander Kratochvil is literary scholar, expert in Slavonic studies, translator. From 1987 to 1993 he studied Slavic Studies, Ethnology, Eastern European History and German Studies at the Universities of Munich, Freiburg, Brno (Czech Republic) and L'viv (Lviv, Ukraine). He wrote his doctoral thesis "Mykola Chvyl'ovyj. A Study on Life and Works " (1999). In the years 2004-2009 he organized and directed the Greifswald Summer School Ukrainicum (since 2005 it is supported by the Alfried Krupp Wissenschaftskolleg Greifswald).
Alexander Kratochvil is the author of numerous articles and monographs on literary criticism, publisher of the series Greifswalder Ukrainistische Hefte (2004-2007). His book "Departure and Return. Ukrainian and Czech Prose in the Sign of Postmodernism" was published in 2013 in Berlin (Kadmos). His research interests are Slavic literary theories in socio-cultural contexts; Memory and memory in the Central and East-Central European literatures, films and computer games/ digital media, trauma narratives in literature, film; Transregionalism; Cultural Ecology/ Ecocriticism; canon-formation and literary historiography in Central and Eastern European literatures. In addition, Alexander Kratochvil teaches Ukrainian literature at the Humboldt University in Berlin and translates Ukrainian and Czech literature into German: Yuri Andrukhovych, Serhiy Zhadan, Natalka Snyadanko, Yury Vynnytchuk, Oleksandr Irwanez. Among others, published by Droschl-publiching house is his translation into German of Oksana Zabuzhko's novel "Museum of forgotten secrets" (2010) and "Planet vermouth. Essays "(2012), as well as Oleksandr Irwanez's novel "Praline of the Red Star" (2017, in Ukrainian "Рівне/ Ровно (Стіна)", published by the Haymon publishing house .
This lecture series are organised by the regional group Berlin/Brandenburg of the German-Ukrainian Academic Society/The UKRAINE Network. If you wish to join the group or receive information about future relevant events please contact local coordinators of this group: Dr Olesia Lazarenko and Dr Dmytro Puchkov at berlin (at) ukrainet (dot) eu