This workshop will be held in German and Ukrainian.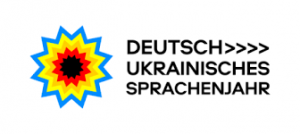 Wissenschaftlich-didaktischer Workshop "Ukrainisch als Fremd- und Herkunftssprache in Deutschland"
Anlässlich des Jahres der ukrainischen Sprache in Deutschland 2017-2018
Datum: 17./18. November 2017
Ort: Ukrainische Botschaft, Berlin, Albrechtstraße 26, 10117 Berlin
Anmeldung erforderlich (Link): Bitte geben Sie Ihren Namen, Ihren Arbeitgeber (falls zutreffend) und Ihren Wohnsitz an – in Übereinstimmung mit den Sicherheitsanforderungen für die Besucher der Botschaft. Bitte haben Sie einen Personalausweis dabei.
Organisatoren:
Institut für Slawistik, Universität Greifswald (einziges slawistisches Institut in Deutschland mit einem eigenen Lehrstuhl für Ukrainistik),
Deutsch-Ukrainische Akademische Gesellschaft e.V. / The UKRAINE Network: (https://ukrainet.eu/),
in Kooperation mit der Deutschen Assoziation der Ukrainisten sowie der Ukrainischen Botschaft in der Bundesrepublik Deutschland.
Workshop-Sprachen: Deutsch, Ukrainisch